Linear Stretch Ceiling Leds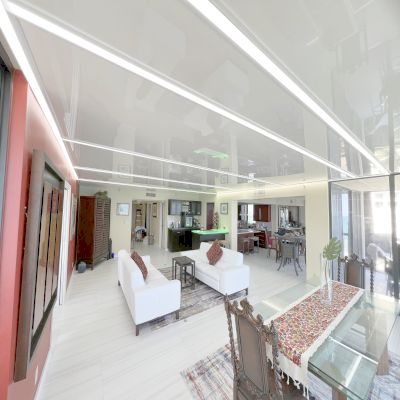 « OneStretchCeiling » our innovative linear lighting solutions open up a world of creative possibilities in interior design. With our new stretch ceiling lighting options, we emphasize the use of directional linear shapes, introducing entirely new dimensions in lighting planning. These « OneStretchceiling » linear ceiling lights can be seamlessly integrated into various ceiling types, making them an excellent solution for challenging ceilings where other lighting options may not be suitable.
One of the key advantages of linear lighting is its customization and adaptability, allowing it to be placed in tight spots and unconventional commercial spaces. This bespoke approach makes our linear ceiling lights an ideal fit for unique commercial environments that require a tailored lighting solution. By combining high-quality metal ceiling manufacturing with beautiful lighting integration, our lighting solutions offer the perfect blend of functionality and aesthetics.
Unlike square or round lights, linear ceiling lights distribute their illumination over a larger area, providing distinct advantages for commercial settings. Typically incorporated into suspended ceilings or mounted on ceilings and walls, they create a functional and design-oriented look. Their versatility and modern design make linear ceiling lights a perfect choice for modern offices and commercial spaces.
Due to its flexibility and performance, « OneStretchCeiling » linear lighting has gained popularity in the commercial environment. We offer a range of options, including linear LED ceiling lights, as well as traditional linear lighting choices, ensuring we meet the diverse needs and preferences of our customers. Our comprehensive linear lighting range provides a versatile and stylish solution that elevates any commercial space.