What is Stretch Ceiling ?
Briefly, It's a suspended ceiling
Pop-Corn Ceiling ?
Ugly Ceiling ?
Ceiling Design ?
Acoustical Ceiling ?
Unfinished Drywall ?
Asbestos Ceiling ?
Concrete Ceiling ?
Ceiling Crack ?
Backlight Ceiling ?
Design Ceiling ?
Damp Ceiling ?
Unlevel Ceiling ?
Smooth Ceiling ?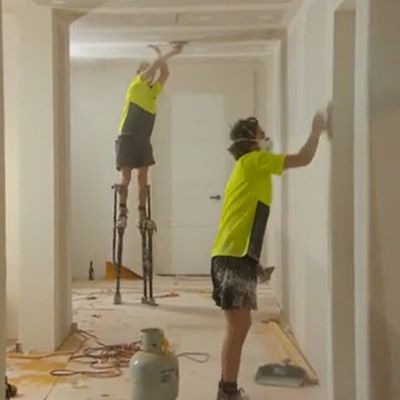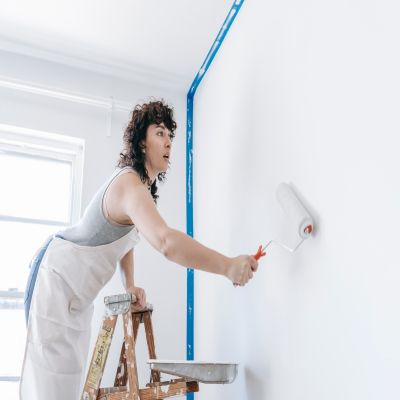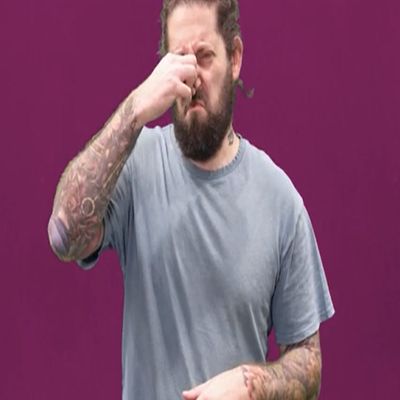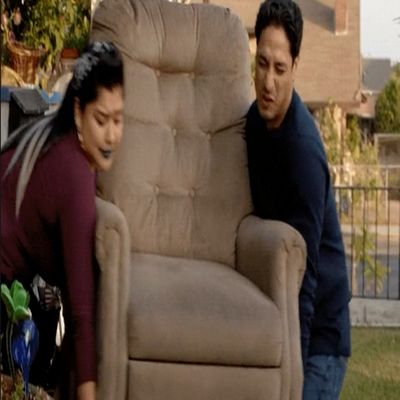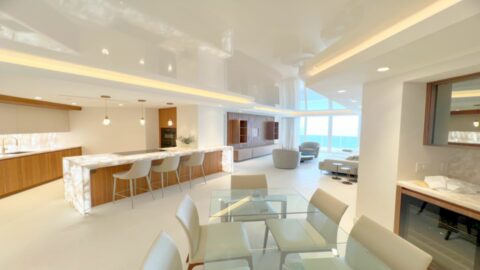 The "French Ceiling" also known as :
The "Stretch Ceiling" System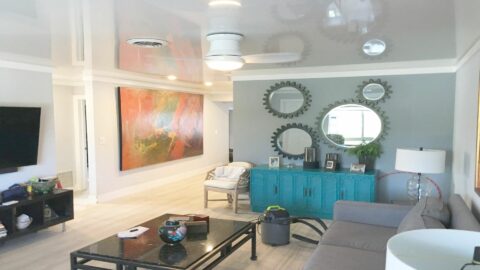 Advantages & Benefits & Features
Stretch ceilings have gained popularity in recent years as an innovative and versatile alternative to traditional ceiling finishes. Offering a myriad of benefits, they have become a sought-after choice for both residential and commercial spaces. In this blog post, we will explore the advantages of stretch ceilings, their installation process, and the various design possibilities they offer.
Versatile Design Options:
One of the most significant advantages of stretch ceilings is their versatility in design. They come in a wide range of colors, textures, and finishes, allowing you to create a customized look that matches your aesthetic preferences. From glossy and matte finishes to printed patterns and even translucent options, the design possibilities are virtually limitless.
Conceal Imperfections:
If your ceiling has imperfections or wiring that you want to hide, stretch ceilings can be an excellent solution. They provide a smooth and flawless surface, concealing any unsightly elements above. This feature makes them particularly popular in renovation projects where existing ceilings may have flaws.
Easy Installation:
The installation process of stretch ceilings is relatively quick and straightforward. A lightweight PVC or fabric membrane is stretched and clipped onto a framework attached to the existing ceiling or walls. The process is non-intrusive and does not require extensive construction work, resulting in minimal disruption to your space.
Durability and Maintenance:
Stretch ceilings are highly durable and resistant to sagging, fading, and moisture. The materials used are easy to clean and maintain, requiring only occasional dusting or gentle wiping. Additionally, they are known for their long lifespan, providing a cost-effective solution in the long run.
Acoustic Enhancement:
For spaces that require improved acoustics, stretch ceilings can contribute to sound absorption and noise reduction. By incorporating acoustic insulation behind the membrane, they help create a more pleasant and comfortable environment, particularly in areas such as offices, restaurants, or home theaters.
Lighting Integration:
Stretch ceilings offer seamless integration of lighting fixtures. LED lights, spotlights, or even fiber optic systems can be easily incorporated within the ceiling, creating unique lighting effects and enhancing the overall ambiance of the space.
Energy Efficiency:
Opting for a stretch ceiling with a reflective or light-colored finish can help improve the natural light distribution in a room, reducing the need for artificial lighting during the day. This feature not only saves energy but also promotes a brighter and more inviting atmosphere.
Conclusion:
Stretch ceilings provide a multitude of benefits, from their versatile design options to their durability and easy maintenance. Whether you're looking to renovate your home or enhance a commercial space, this stylish and practical solution offers a range of advantages. Consider incorporating stretch ceilings into your next interior design project for a modern and visually striking result.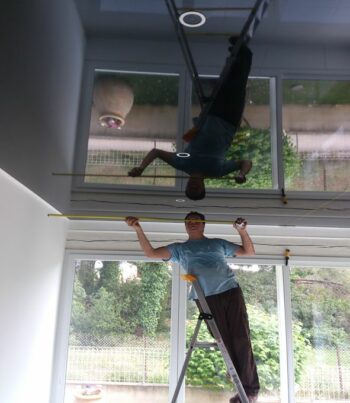 Let me tell you a little about myself.
I have been installing stretch ceilings for over 30 years now.
It's hard to believe it's been so long! I started my journey working in a stretch ceiling manufacturing factory, which allowed me to get to know the product in its raw state.
Then, I had the chance to receive training from one of the founders of the stretch ceiling system.
The first years in stretch ceilings were difficult.
We had to manage with very few tools, and nothing was planned for the stretch ceiling or even to adapt to this new material.
However, with hindsight, it was worth it.
As pioneers of this product, we have constantly worked to improve installation methods, and I look back on that time with immense pride.
I have so many memories and experiences, all etched in my memory forever.
Thank you for sharing a bit of my journey with me.
The service we received from all of the staff, including Chris, was amazing. At our first meeting, we received interesting advice, and our remodeling project ended perfectly. We now have a new condo with a beautiful stretch ceiling. If you want a company that knows exactly what they're doing, then you want this company! Call Chris, and you won't be disappointed.
They showed up on time, worked hard, and even cleaned up after themselves! Best of all, they finished the job right on schedule! It was a total success!
After conducting thorough research and receiving recommendations from acquaintances, I reached out to Chris to install a stretched ceiling in my residence. The installation process was executed proficiently, with a crew that demonstrated a high level of professionalism by attentively catering to my requests and those of my spouse. I would certainly recommend their services to anyone in need of a similar installation.