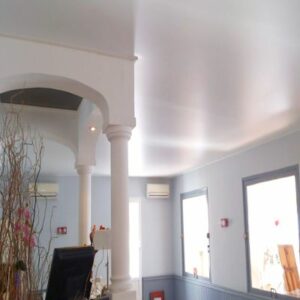 Satin Finish and Stretch Ceiling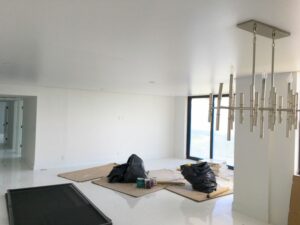 The stretch ceiling system by « OneStretchCeiling » offers a captivating satin finish that adds an elegant touch to any space. With its smooth and lustrous surface, the satin finish of the stretch ceiling system elevates the aesthetic appeal of ceilings, creating a luxurious ambiance that will impress everyone.
« OneStretchCeiling » Satin membranes offer a balanced option between glossy and matte finishes. With a moderate luster, they minimize glare from lamps and chandeliers while providing a texture reminiscent of silk cloth, resulting in an appealing color and appearance.
The elegant and subtly shiny satin fabric structure allows these ceilings to seamlessly complement any interior style in your home.
By diffusing light evenly and gently, satin stretch ceilings create a soft, cozy, and relaxed atmosphere in the room. Furthermore, their durability and moisture resistance provide added protection against moisture and potential leaks from above.
A stretch ceiling satin is a type of ceiling finish that uses a flexible membrane made of satin material. It is designed to be stretched and installed tightly across a room's ceiling, creating a smooth and sleek appearance. The satin finish adds a touch of elegance and can provide a subtle sheen to the room. Stretch ceiling systems offer various benefits, including hiding imperfections, providing acoustical insulation, and allowing for the integration of lighting fixtures. They are often used in residential and commercial spaces to enhance the overall aesthetics of the room.